. Welcome to A Complete Office Remote Network (ACORN).
ACORN provides fast, secure and flexible connectivity to your corporate network from remote, temporary and mobile offices. You get the remote connectivity you need, wherever you need it.
We've built ACORN to give you:
Firstly, ACORN offers secure connectivity to your corporate network from your remote locations
Optimised wide area network (WAN) connectivity for access to corporate services with the performance you expect
A virtual server platform for the rapid deployment of ICT services with minimal administrative costs.
Full control of your data with storage located in your data centre made available when and where you need it
Finally, you will have access to wireless and wired connectivity for devices at remote locations
In addition, the portable unit is designed to fit within a rugged road case, and weighs less than 23 kg. In other words, you can take it on domestic flights as checked-in baggage. The unit is compatible as a permanent built-in a within a C-Class rack.
This makes ACORN the perfect solution for access to your corporate applications and data from temporary or mobile offices, and from small branch offices. For instance, it's a great choice when network connectivity is needed in urgent and interim situations. It is also highly beneficial as part of a disaster recovery strategy.
Choose the ACORN model that suits your remote network needs
1. ACORN SHELL
A portable network for remote locations.
2. ACORN BRANCH
A temporary, portable or mobile, small-office network solution.
3. ACORN OAK
All the benefits of ACORN Branch plus storage virtualisation.
Get to know the features, benefits and technology ACORN can offer: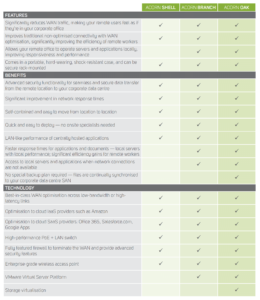 Get in touch to talk to about how ACORN can work for your business.